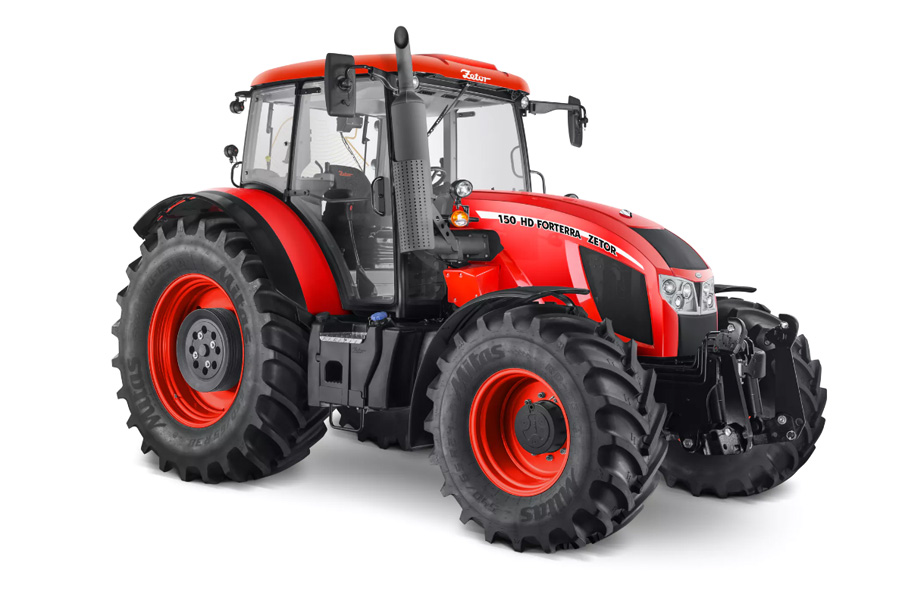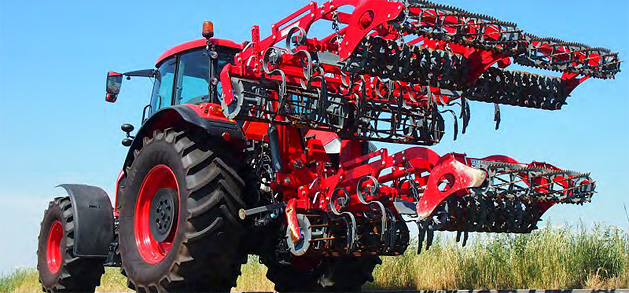 The HD series is a long-wheelbase tractor delivering traction and comfort of a six-cylinder concept, however with outstanding fuel economy and attractive price of a four-cylinder.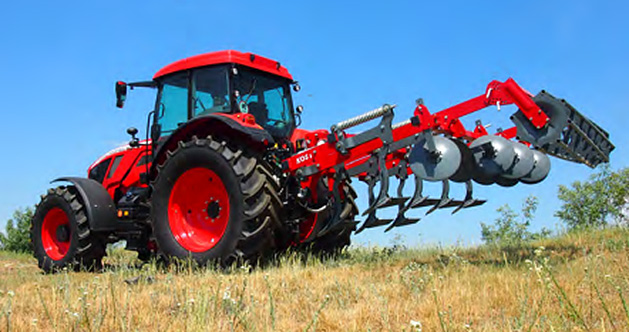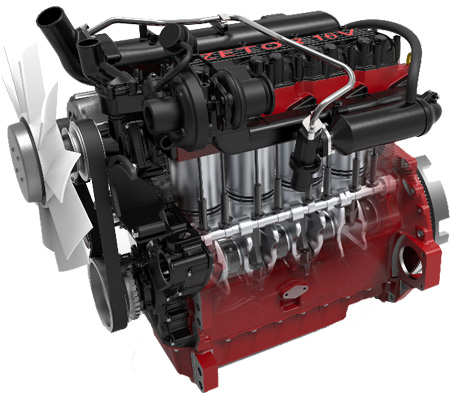 The top-of-the-line high torque 4-cylinder Zetor engine delivers outstanding operating costs. It maintains the proven mechanical injection system. Such design tolerates fuel of various quality and offers low parts cost, compared to common rail engines. Two balancing shafts contribute to a smooth vibration free run.
A standard air compressor and tire hose provides source of compressed air in the field.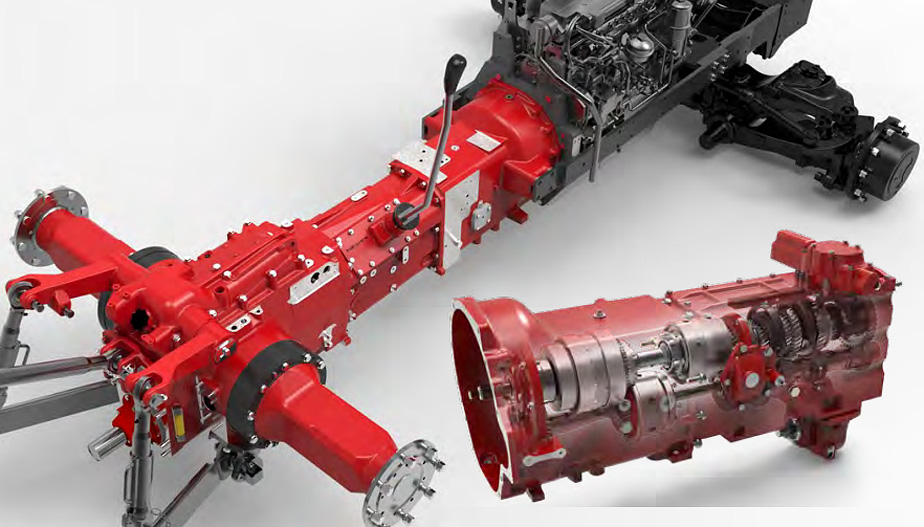 ZETOR designs and manufactures their own transmissions for HD series tractors in the main plant in the Czech Republic. The proven and reliable 30F/30R Semi-Powershift transmission with Power Shuttle and PowerClutch™ (De-Clutch) function is standard.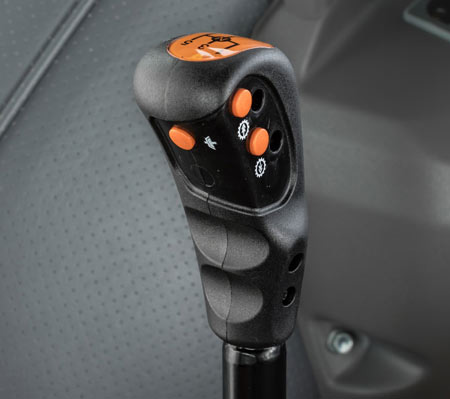 The buttons shown on left side of control knob operates the powershift manually and the button on front side operates the PowerClutch™ (De-Clutch) function which enables the operator to shift through the 5-speed without having to depress the transmission clutch pedal. The powershift can also be set-up to shift automatically based on engine load.
The HD Series tractors have a broad range of (13) transmission working speeds between 2.5 MPH and 7.5 MPH, delivering maximum fuel economy, performance and productivity.
Rear PTO has standard four speeds 540/540E/1000/1000E.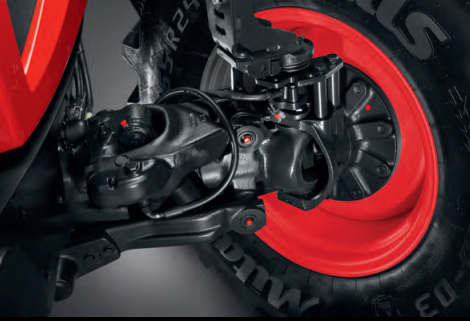 Optional suspended front axle greatly enhances operator's comfort.
Pivoting breakaway front fenders are standard on either front axle.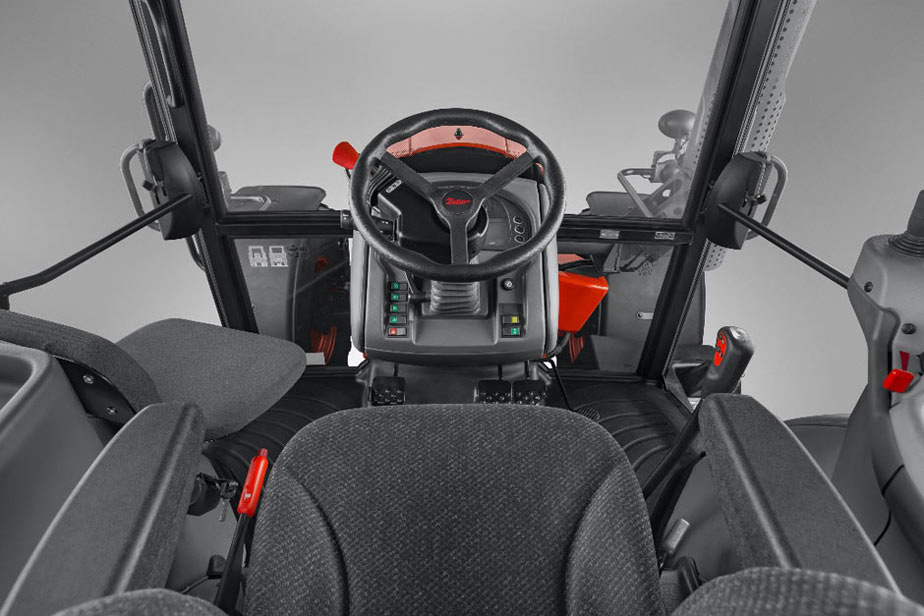 Quiet comfortable cab is equipped with tilt/telescoping steering wheel, swiveling air ride seat and standard folding instructional seat.
Cab suspension with springs and hydraulic shock absorbers is optional.
Other standard features:
Climate Control including AC/Heater/Forced Air front windshield defrost
Electric rear window defrost
Stereo ready with speakers and antenna
Telescopic L/R heated outer mirrors
F/R Wipers with washer tank
Total of fourteen front and rear halogen lights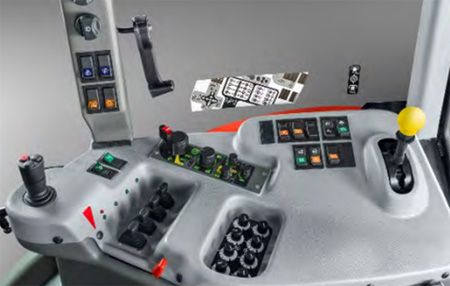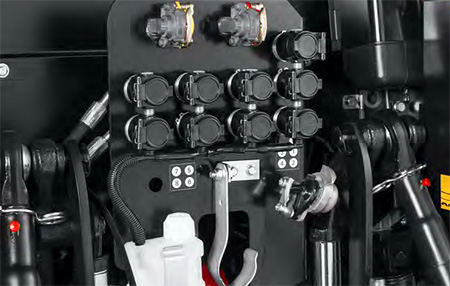 The HD Series command console features 4-spool fully electronic fingertip control remote valves including time/pressure/flow adjustment. Standard integrated electronic joystick can be used for loader control, or to control rear remotes.
The HD series is equipped with Bosch electro-hydraulic three-point hitch controls: The patented fuel-saving HITCHTRONIC™ function of the 3-point hitch electronic draft control, plus position and mix controls with precise measurements.
The lifting system is the strongest of any brand sold in this class with a lift capacity rating of 14,400 Lbs., 24" behind the ball ends.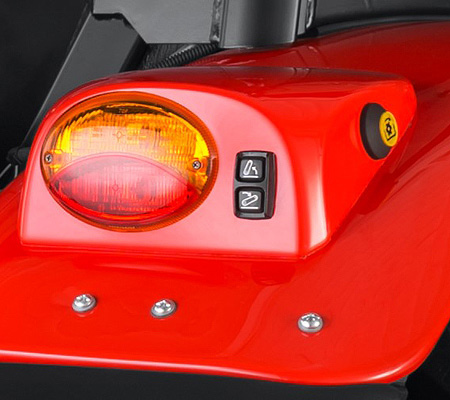 Standard are also left/right outer fender control buttons for the 3-Point Hitch and rear PTO inching button.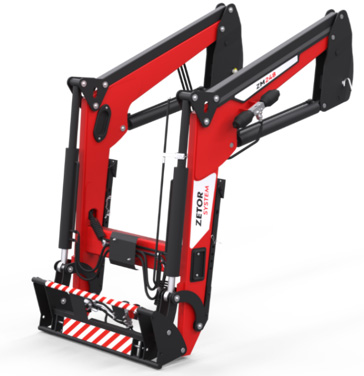 The matching Zetor System 248 front loader is massive and well equipped:
Full length subframe
Standard self-leveling
Standard third function
Standard pressure accumulator (Soft-Ride)
Standard Euro tool carrier with hydraulic tool carrier lock (no need to leave the seat when attaching/detaching tools)