Zetor North America is the North American subsidiary of Zetor company. No other company in North America is associated with Zetor by any means. Zetor North America supplies only genuine Zetor replacement parts.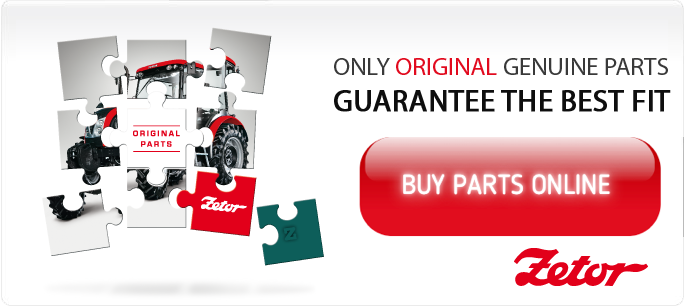 Starting in 2013, Zetor company stopped supplying genuine parts to other entities. The world wide web if full of aftermarket parts and look alike parts sold to customers and dealers that may resemble original Zetor replacement parts, but they are not. Unless original replacement Zetor parts are purchased directly through the Independent Zetor North America dealership franchise and or through Zetor North America, Jacksonville, Florida USA, there are NO guarantees made. Any damage to your tractor and or implement is the sole responsibility of the purchaser.
There is engineering and manufacturing time involved, the expertise in extensive quality control involved in parts production and only original manufactures (OEM) poses this kind of expertise.
Zetor strongly discourages purchasing aftermarket parts especially during the warranty period as this will VOID Warranty on the entire unit. The price difference is far smaller than the difference in quality and durability.
7 reasons why to choose Zetor North America
15,000 line items are in stock in Jacksonville North America Parts Warehouse
Over 50,000 additional line items can be delivered into the Jacksonville North America Parts Warehouse within 48 hours after clearing US Customs.
Zetor North America has the expertise and know-how installation
When needed, ZNA supply parts with installation instructions
ZNA customers have unlimited access to Company technicians with decades of Zetor parts and service experience by email and or phone.
ZNA technicians care and are ready to help during regular business hours or afterhours in emergency situations.
All Zetor genuine parts carry 1-year warranty.
Zetor also manufactured tractors AGRIPOWER 5000, AGRIPOWER 7000 (some), LONG 900, LONG 910, LONG 1100, LONG 1300, LONG 1310 and LONG 1540, John Deere 2000 series (2100 through 2900). A line of genuine parts is available in our Jacksonville North America Parts Warehouse.
Zetor North America Jacksonville, Florida USA facility also services all Zetor manufactured injection equipment installed in Zetor tractors.
Contact ZNA by e-mail: service@zetorna.com. For help with installation of parts supplied by Zetor North America.
Please fill out this form and a Customer Relations team member will contact you shortly. Thank you!