Engine and transmission
Powerful, smooth operation with low fuel consumption.
The exceptional popularity of Zetor manufactured diesel engines is based on low fuel consumption, high reliability and simple design. These new mechanical engines are equipped with an electronic governor that reward's the customer not only with low operating costs but also in longevity, reliability, low maintenance and service intervals. The new engines are shut off by the ignition key switch. No costly sensors are found on Zetor T4F engines. Only the emissions are regulated with sensors to meet the stringent T4F USA/Canada standards.
Power 128-148 EHP
HSX Engine Power Range:

128 EHP to 148 EHP
Zetor engines
do not use
Power Boost. Full power is always available regardless of load.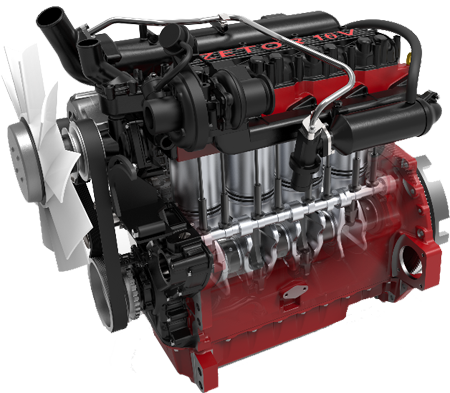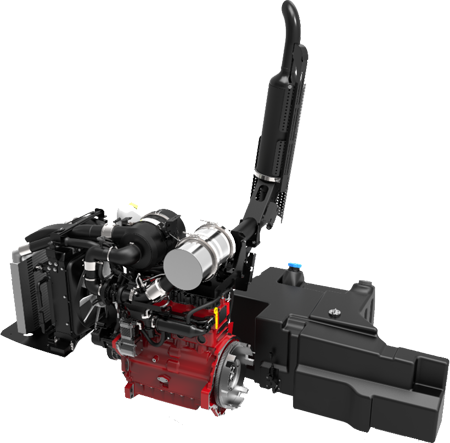 ZETOR IN HOUSE DESIGN, DEVELOPMENT AND MANUFACTURING. Full control of what goes into each tractor built.
LOW FUEL CONSUMPTION Ensures low operating cost using Zetor's mechanical fuel injection system with an electronic governor.
TWO BALANCE SHAFTS Ensures the a smooth running engine with reduced vibrations often found in other manufactured diesel engines.
NO POWERBOOST Zetor diesel engines have full power available regardless of what speed the tractor is traveling or whether the PTO has been engaged.
ZETOR Emissions uses a combination of DOC catalyst, an active DPF filter and SCR technology, urea (DEF blue fluid) exceeding the most stringent T4F government regulations.
There are No engine sensors. Without the need of the costly common rail fuel injection system most all other manufactures use, Zetor continues to use their time proven mechanical injection system with an electronic governor.
FIXED GEOMETRY TURBOCHARGER Air-to-air aftercooling with cooled exhaust gas recirculation (using engine coolant).
PRESSURIZED OIL - COOLED PISTON CROWNS Increases combustion efficiency and extends engine life.
Wet Cylinder Liners increases life of the engine and all components.
Transmission
HSX SERIES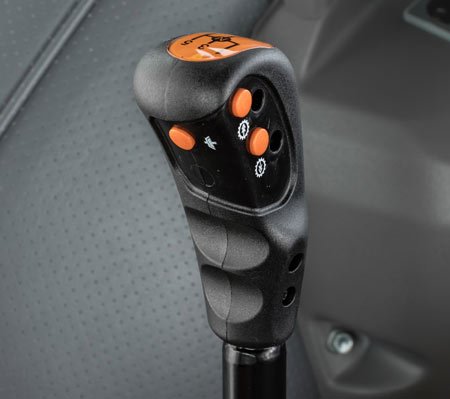 ZETOR manufactures their own transmissions and differentials in Brno, Czech Republic for the HSX & CL Series tractors. The HSX HT and HD HT Series tractors are equipped with the proven and reliable 30F/30R Semi-Powershift transmission with Power Shuttle and PowerClutch™ (De-Clutch) function.
The buttons shown on left side of control knob operates the powershift manually and the button on front side operates the PowerClutch™ (De-Clutch) function which enables the operator to shift through the 5-speed without having to depress the transmission clutch pedal. The powershift can also be set-up to shift automatically.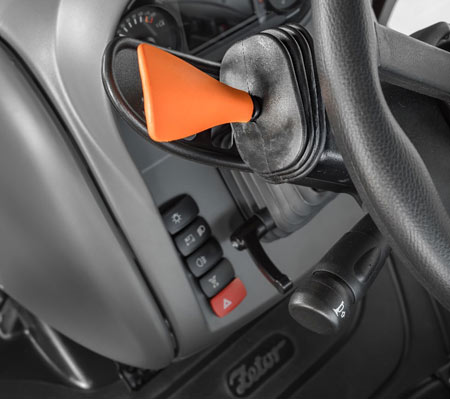 The HSX HT and HD HT Series tractors have a broad range of (13) transmission working speeds between 2.48 MPH and 7.45 MPH, delivering maximum fuel economy, performance and productivity.
HSX HT and HD HT Series Powershift buttons shown in 1st picture, PowerClutch™ (De-Clutch) shown in 2nd picture and the Power Shuttle control paddle is shown in the 3rd picture to the right, 4th picture illustration of transmission with Power Shuttle Clutch Pack and Powershift (Torque Multiplier) with helical cut gear sets.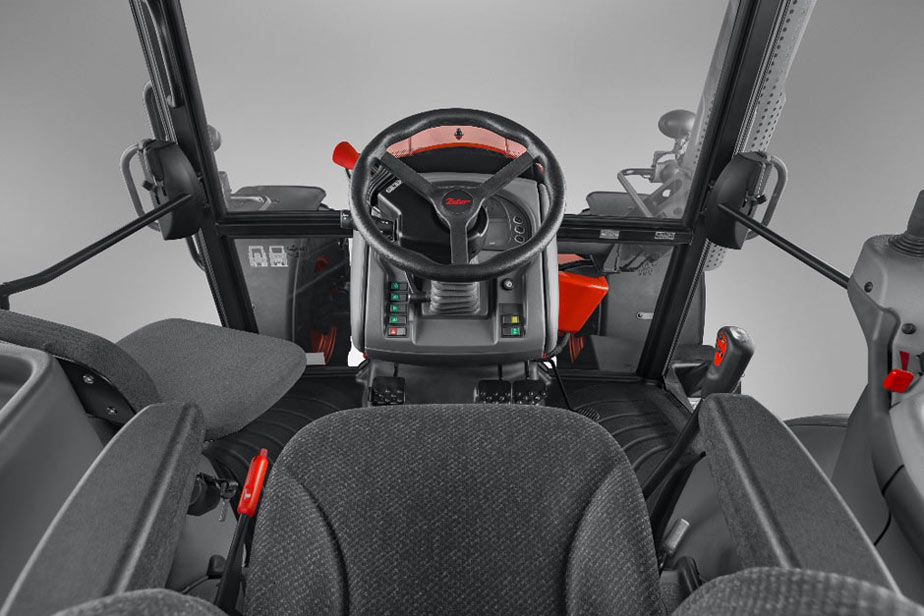 PTO
Both the HSX HT and HD HT Model tractors use multi-wet clutch packs for the Independent PTO assembly. This IPTO system ensures smooth engagement and long life of the clutch packs running in a pressurized oil bath.
All models have 4-speed PTO: 540/540E/1000/1000E Independent rear PTO. The tractors are shipped with the 1000 Shaft inside the Cab toolbox. The interchangeability is simple without any oil spill. The IPTO is engaged with an electro-hydraulic 2-position switch in the cab.
The HD HT Series tractors come equipped with fully electronic finger tip control remote valves including time/pressure/flow adjustments with float, single and double action controls. The tractors are also equipped with a factory electronic Joystick complete with multi-functions all located in the right side console.
HYDRAULICS
All models are equipped with Bosch electro-hydraulics with Zetor HITCHTRONIC™ (ELC) function of the 3-point hitch with lower link electronic draft control, plus position and mix controls with precise measurements. The rear remote valves in the HSX HT Series tractors are mechanically operated with hand controls on front side of righthand console.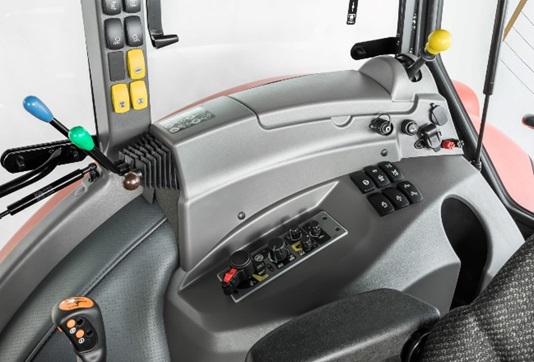 3 - POINT HITCH
Both the Premium HSX HT and HD HT Series tractors come standard with left/right outer fender control buttons for the 3-Point Hitch and rear PTO shut-off button. The lifting system is the strongest in the industry out of any brand sold. Each model features an inner piston inside the hydraulic cavity plus 2-outer auxiliary lift cylinders with a lift capacity rating of 14,400 Lbs., 24" behind the ball ends.
The 3-Point hitch arms are CAT 2 with HD extendable ball ends and HD telescopic stabilizers including a HD swinging drawbar with hammer-strap and pin.
ALL WEATHER CLIMATE CONTROL PREMIUM CAB
HSX HT and HD HT Series
Climate Control including AC/Heater/Forced Air front windshield defrost, Electric rear window defrostStereo ready with speakers and antenna
Premium Cloth Air-ride suspension seat with swivel/recline/for/aft/rocker control/dual armrest & retractable seatbelt
Premium cloth foldable instructor seat & retractable seatbelt
Tilt wheel with telescopic steering column
Locking L/R doors, L/R corner windows and rear window
Telescopic L/R heated outer mirrors
F/R Wipers with washer tank
3-Mechanical control rear remote valves, all 4-way premium sections with float/detent/DA/SA
Windshield sun screen
For more information on the Premium HSX HT and HD HT Series tractors from Zetor North America, please visit your local Full Service Zetor NA Dealer and or call Zetor North America @ 904-647-7169 and ask to speak with the Sales Manager in your region.
Zetor FORTERRA Premium HT AG Series Brochure PDF file.