Engine Power and Performance
The PROXIMA P100 Series Tractors are the newest upgrade to the oldest running tractor models in the Zetor family. Time and tested through all climates and task put before them, the tractors deliver.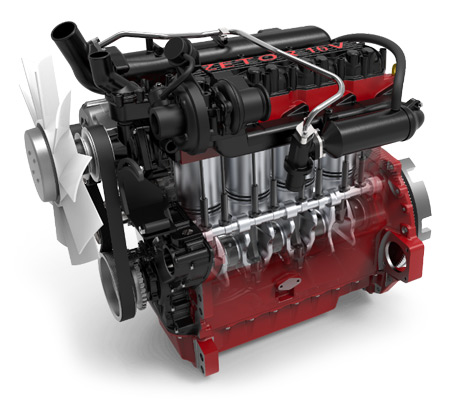 The new T4F, 4-cylinder US EPA Emission approved Zetor engines have significant fuel reduction of over 19% with two balancer shafts, 4-valves per cylinder, wastegate turbochargers and an electronic governor while maintaining the time proven mechanical injection system. This design eliminates the high cost of fuel sensors that high-pressure common rail T4F engines require.
Urea DEF blue is required in all new Zetor manufactured engines to meet the stringent US EPA requirements. Zetor engineering designed the fuel and Def tanks injunction with each to take up less space. The DPF filter and muffler are combined in one unit found under the hood with an A-Pillar exhaust stack.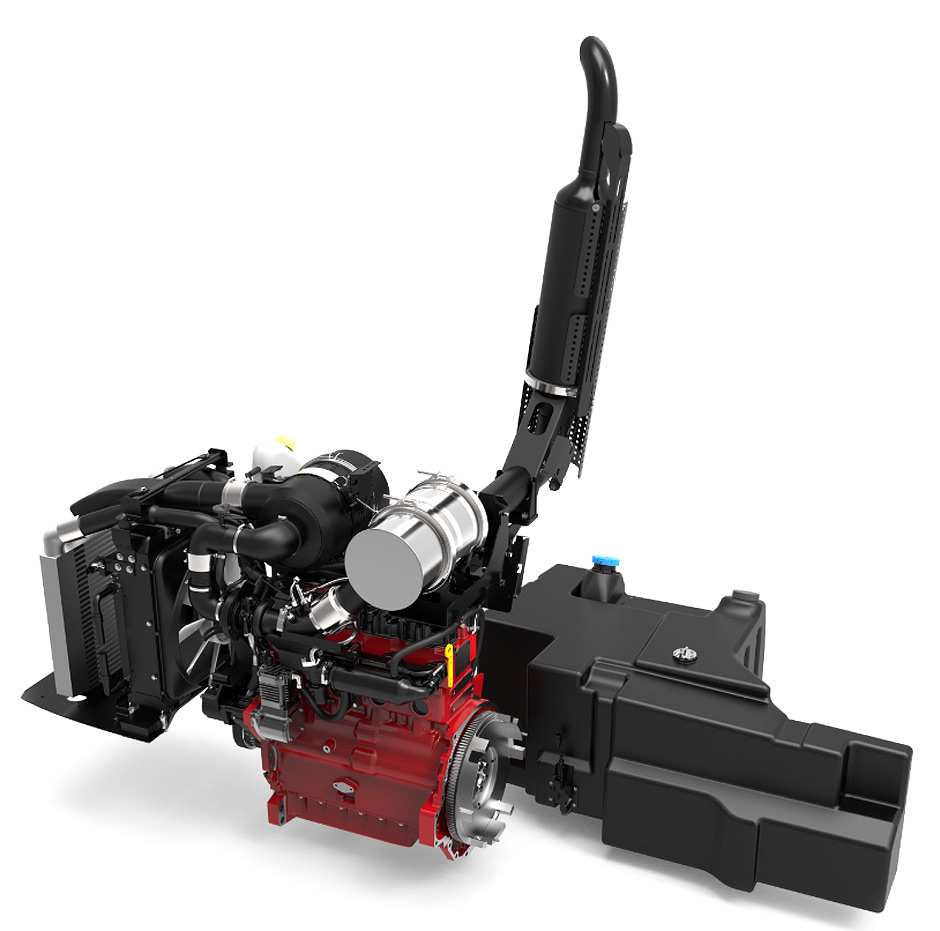 P100SSC

- 99 EHP / 80 PTO HP
P110SSC

- 107 EHP / 85 PTO HP*
P100PSC HT

- 99 EHP / 80 PTO HP
P110PSC HT

- 110 EHP / 85 PTO HP*
P120PSC HT

- 120 EHP / 90 PTO HP
P130PSC HT

- 128 EHP / 95 PTO HP*
Transmission Endurance and Efficiency
The P100 Series drivetrain is full-length cast-iron structural design with time-tested outboard final drive that give the tractors definitive lugging and pulling power in all gear ranges. Ideal for plowing, planting, disking, Front End loader work, landscaping, forestry, hauling and other ground engaging task.
The P100SSC models are available with the popular 12F/12R full synchronized Mechanical Shuttle or a 20F/4R transmission with Super creep.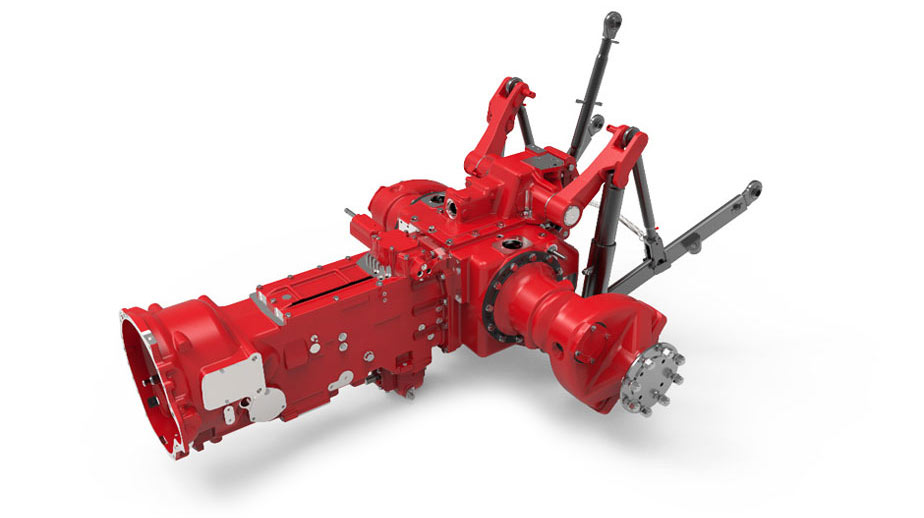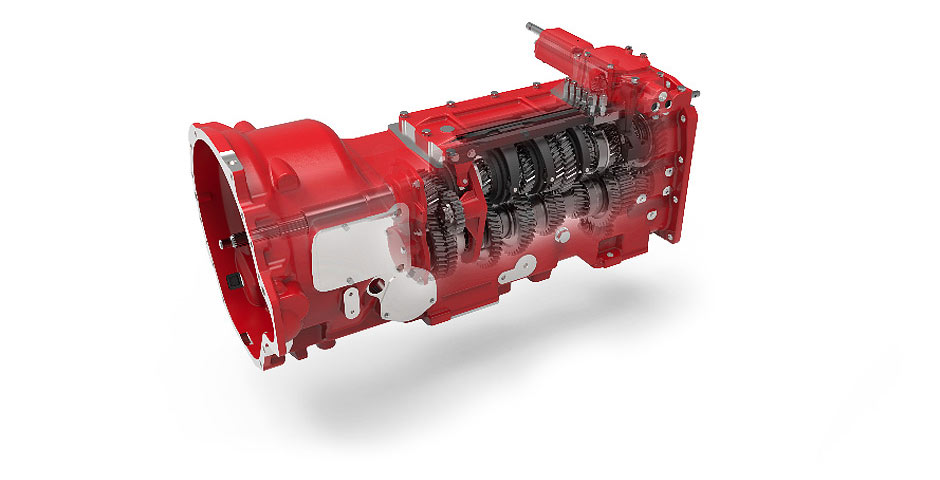 The new P100PSC HT models new for the North America Market not only features the very popular 24F/24R Semi-Powershift with a Hydraulic Power Shuttle reverser but also comes standard with the Bosch Hydraulic System with Zetor's patented HITCHTRONIC™, (ELC) 3-Point Hitch controls found in the popular HSX FORTERRA Series tractors.
Zetor P100 Series Photo Gallery
PROXIMA Premium Transmission Controls
The P100PSC HT Series tractors are equipped with a Semi-Powershift transmission and a hydraulic Power Shuttle reverser. The Transmission features 4-synchronized gears plus 3-Powershift gears that can be set on auto shifting mode or manual mode plus 2-ranges for a total of 24F / 24R speeds.
The tractors also come equipped a Premium De-Clutch feature by Zetor with a button on the front side of the shift knob to activate the PowerClutch™ which enables the operator to shift through the 4-speeds without the need to depress the transmission clutch pedal, so shifting can be performed on the go without having to stop or slow down forward or reverse.
The Powershift buttons are seen on the inside of the transmission shift knob.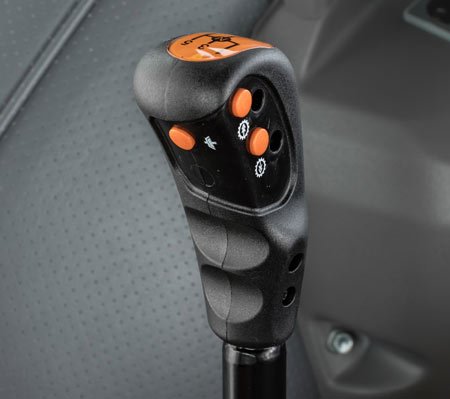 The Power Shuttle Reverser control lever is mounted to the steering column on the left side of dash.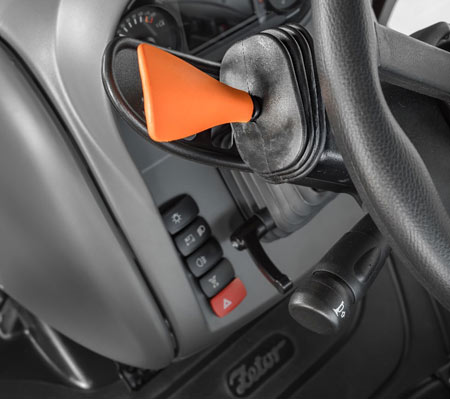 Premium Comfort
Zetor manufactured and factory installed Premium Climate Control Cabs is standard on all models. Automotive style heating and Air Conditioning with a large capacity compressor and evaporator gives the operator comfort in all climates. Tilt with telescopic steering comes standard, fresh air ventilation is standard, sun visor, locking L/R doors and corner windows is also standard equipment, L/R mirrors, F/R wipers and a pre-wired stereo ready sound system with speakers and antenna all come standard.
The P100PSC HT models also come factory equipped with an OSHA approved Instructor seat with retractable seatbelt that is optional on the P100SSC models.
The operator seat on all models feature Air-ride with for/aft/ swivel/rocker/recline adjustments, dual armrest and a retractable seatbelt.
Operator entry view of P100SSC, SC Series Cab including optional instructor seat.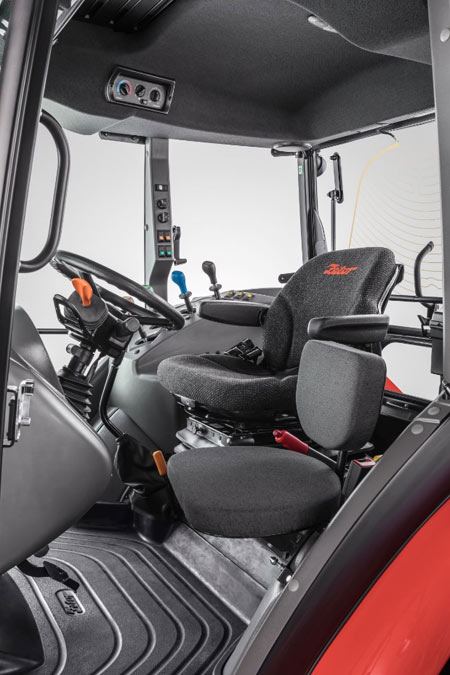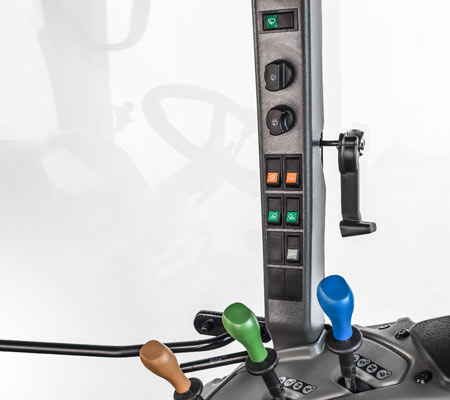 All P100 Series Cab tractors include Cab B-post controls for 12V power supply, F/R wipers, Cab lights, rotating beacon when equipped and rear electric window defroster switch.
All P100 Series Cab tractors also include tilt and telescopic steering, toolbox, insulated headliner with multiple air vents, dome light and beverage holder.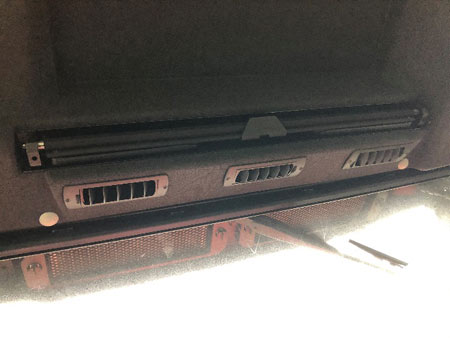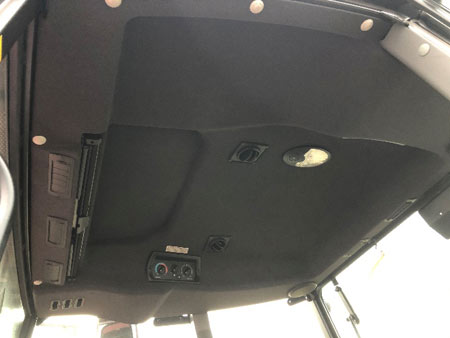 Independent PTO
PROXIMA P100 Series tractors come factory equipped with 2-speed 540/1000 Independent PTO. An additional key benefit and feature on All Models is Ground Engagement PTO. No other tractor brand in this HP class is sold in North America with this premium feature. A few popular uses for ground speed PTO: Unclogging a hay baler, or post hole auger or powering a manure spreader. The PTO shaft speed only turns as fast as the tractor wheel speed giving the operator a superb benefit. By being able to unclog a hay baler or spreading manure without flinging the material in places not wanted, the ground engaging PTO is a huge benefit.
The P100PSC HT models feature the Premium multi-wet clutch pack to engage the PTO separate from the transmission. A 2-position electric over hydraulic switch engages the PTO shaft.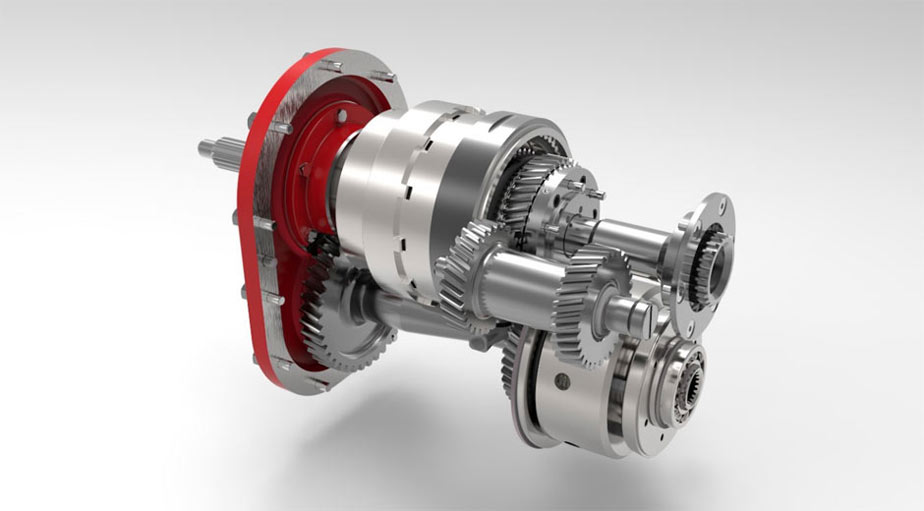 P100SSC models also feature Independent PTO, but engaged by a dry cerametallic clutch disc Independent of the transmission clutch. A mechanical lever attached to a cable going to the clutch housing engages and disengages the PTO clutch from the pressure plate.
All Proxima P100 Series tractors have an interchangeable 1000, 21-spline shaft shipped inside the tractor's Cab toolbox. The PTO shafts can be interchanged without the loss of oil.
4 - Wheel Drive
Four-wheel drive is standard on all models. The Premium P100PSC HT tractors come factory equipped with a 25 MPH front axle with 4-wheel hydraulic disk brakes. Both the rear axle and front axle features multi-wet disc brakes on each wheel providing maximum stopping power and Safety.

The P100SSC models are equipped with a 19 MPH axle without front disc brakes. Braking is actuated while in 4wd when the brake pedal is depressed.
All models are available as an option with pneumatic air brakes or pneumatic over hydraulic air brakes for pulling heavy drawbar mounted loads.
Hydraulics, 3 - Point Hitch and Drawbar
PROXIMA P100 Series tractors are equipped with the highest 3-point hitch lift capacity out of any manufacture in its horsepower and weight class. All models lift over 7,700 Lbs., 24" behind the ball ends, which is more weight than any other manufactures standard equipment.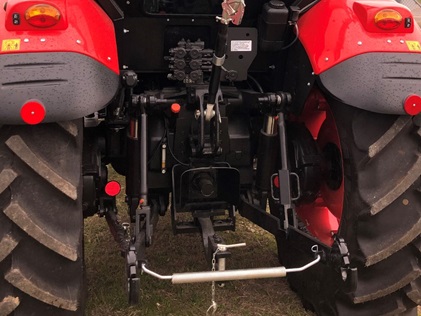 All models come standard with heavy duty telescopic stabilizers and CAT II extendable link ball ends and a HD swinging drawbar complete with hammer strap and tow pin.
HD CAT II, 3-point hitch lift arms with fixed Hook ends are optional, shown in the photo.
The tractor has a single internal piston plus two external auxiliary lift cylinders.
3 - Point Hitch Controls
P100PSC HT models feature the popular high specification (ELC) Electronic Lift Control of the 3-Point Hitch with lower link Draft sensing by Zetor's patented HITCHTRONIC™.
Each model comes standard with Position/Draft and Mix controls plus L/R outer fender buttons to control the lift and lowering of the 3-Point Hitch plus a PTO kill button.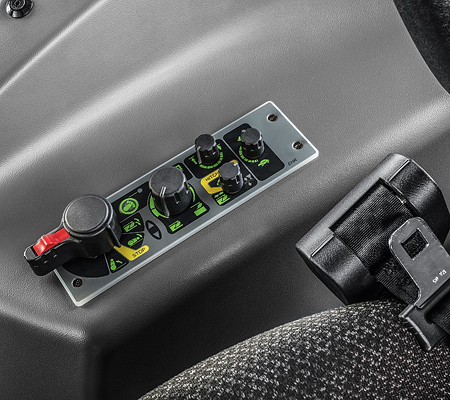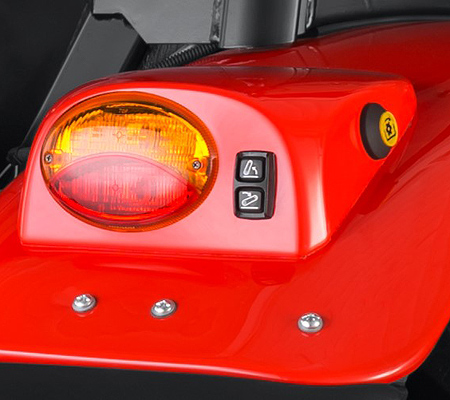 P100SSC models are factory equipped with Mechanical Levers for Position/Draft and Mix controls of the 3-point Hitch. HITCHTRONIC™ (ELC) is a factory ordered option.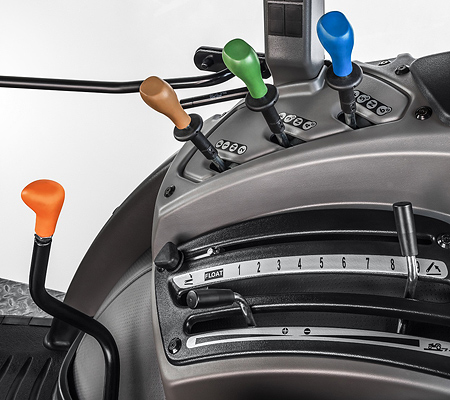 Hydraulic Rear Remote Valves Controls
Rear remotes hydraulic valve controls on all P100 Series tractors is mechanical. All tractors come factory equipped with 3-rear valve banks with 4-way functions. Float/Detent/Single Acting/Double Acting. The #1 remote valve also features pressurized kickout when the cylinder stroke ends.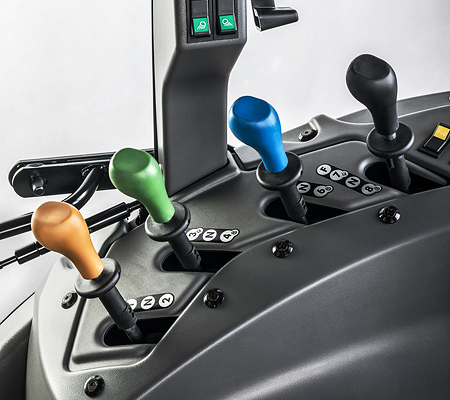 The P100PSC HT Series can be ordered with 4-Premium, 4-way valves as an option.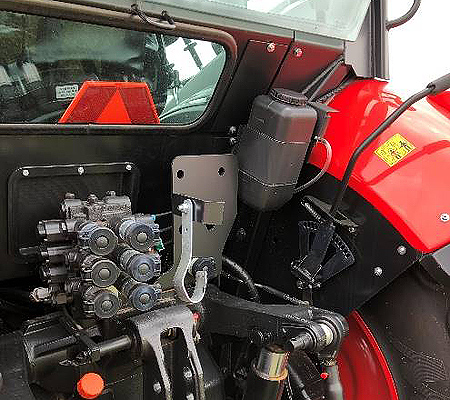 Each control levers features a built-in Safety device that prevents the levers from being locked into full pressure mode. Operator Must Pull upwards with two fingers while pushing downwards on the top portion of control knob in order to move the control lever in either direction. This is called a 2-piece actuation for Hydraulic System Safety.
Lighting and Safety
All P100 Series tractors come factory equipped with Safety and Lighting package. Each model feature 4-grille inserted headlights, brake and taillights, L/R turn signals, emergency flashers, SMV emblem and electric horn.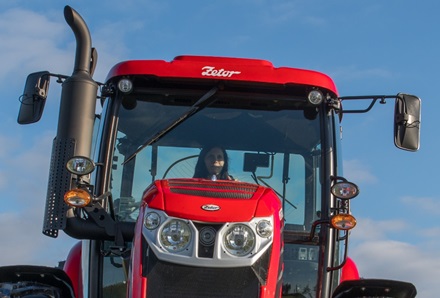 The P100PSC HT models also come with 2-front Cab lights and 4 rear Cab lights.
The P100SSC models have 3-rear Cab lights.
Both Series are equipped with DOT license plate brackets on back side of Cab with lighting.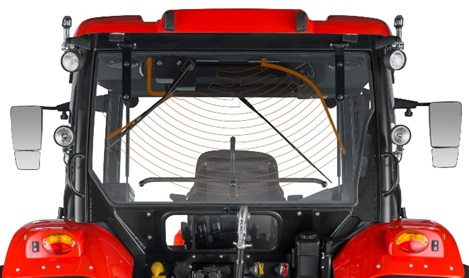 Additional lighting for all models is optional. Left and or L/R rotating beacons are also available as an option. All tractor models also come with adjustable L/R Cab mirrors and F/R wipers.
On-Boarding Air Compressor & Tank
All Proxima P100 Series tractors are factory equipped with an on-board air compressor with regulator, tank and tire fill hose.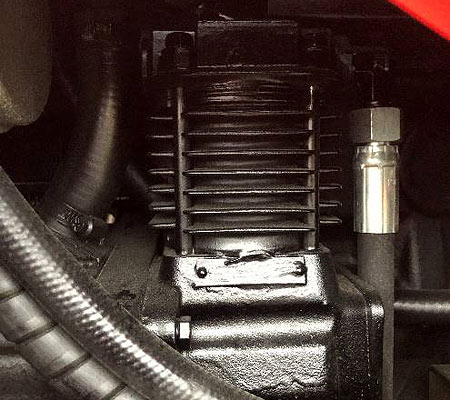 The pneumatic system serves key functions in the tractors such as differential lock engagement but also serves as a key benefit to the operator.
The on-board compressor can fill any tire with air and is regulated at 85cfm.
An air hose long in length will reach around both sides of the tractor to all 4 wheels with length to spare. One end will attach to the tractors regulator with the opposite end attaching to any tire valve stem without having to be held in place.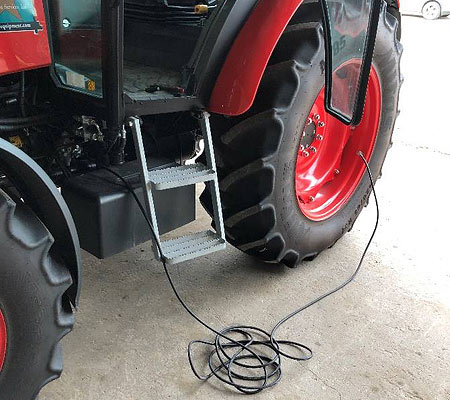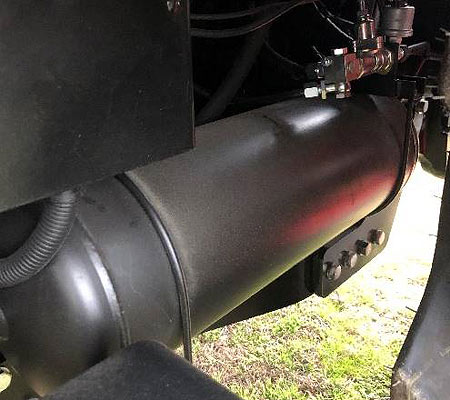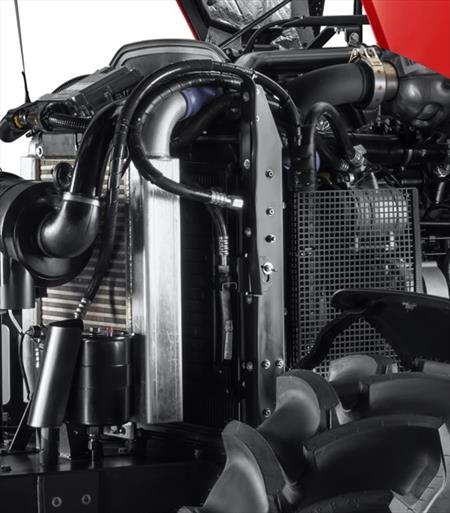 An additional hose can be ordered through parts with a blow nozzle end to serve as a tool to blow out the tractors cooling pack while in the field during dusty conditions and or heavy mowing/hay operations with debris and dirt.
For more information on the PROXIMA Series tractors from Zetor North America, please visit your local Full Service Zetor NA Dealer and or call Zetor North America @ 904-647-7169 and ask to speak with the Sales Manager in your region.
Zetor PROXIMA Series Brochure PDF file.