Engine Power
The New Utility Ag Series by Zetor North America is powered by Deutz.
The high spec German built diesel engine is world class in manufacturing and technology used in a variety of markets including industrial and agriculture.
Zetor North America Utility Major Ag Series is powered by the Deutz TCD 2.9 L4 water-cooled 4-cylinder diesel engine with turbocharger, air-to-air aftercooling, a DOC catalyst with No DPF filter and No urea, (No DEF Blue Fluid), an External EGR cooling system with High-Pressure Common Rail Fuel Injection System, that exceeds T4F US EPA emission compliance.
There are four new models in the MAJOR Utility Ag Series:
M70PSC

- 72.8EHP / 62 PTO HP
M85PSC HD

- 80HP / 64 PTO HP
M85PSC HD L

- 80HP / 64 PTO HP
M85SSC

- 80HP / 66.5 PTO HP
M Utility Ag Series Engine and Accessories Photo Gallery
Engine Accessories
Heating and Air Conditioning is factory installed equipment with a high capacity automotive style AC compressor, forced air windshield defog and an automotive style high capacity alternator. A single serpentine style belt powers most of the engine accessories except for a single V-belt powering the Air Conditioning compressor for maximum performance.
PowerTrain
Three transmission options to choose from.
1st, the 24F/24R Full Synchronized Power Shuttle with standard creeper speeds featured in the M70PSC model. The tractor has a 4-speed transmission with 4-ranges. The creeper range is locked out to prevent accidental engagement for the beginner operator. On the underside of Cab, a cotter pin locks the range selector out to prevent from going into creeper mode that is easily accessible. Creeper mode is most used in applications like rototilling and trencher work where very slow speeds are needed.
The 4-speed shift knob easily shifts between gears simply by depressing the clutch pedal on left side of column without the need to stop, much like operating a vehicle with a manual shift transmission. The Power Shuttle control is located below the steering wheel on left side of dash that enables the tractor to shift motion between forward and reverse without stopping and without depressing the tractors clutch pedal. Top road speed is 22 Mph and speeds in creeper mode as slow as .12 Mph.
2nd is the 24F/12R Full Synchronized Power Shuttle with 2-Speed Powershift and standard creeper speeds featured in the in the M85PSC HD and M85PSC HD L models. This transmission also includes the Premium PowerClutch™ function. The PowerClutch™ works like a De-Clutch meaning, the operator simply depresses a button located on the front side of the 4-speed shift knob enabling the tractor to shift gears without ever having to depress the tractors clutch pedal. All the other features on the M70PSC applies to this transmission.
The 2-Speed Powershift is a button on the inner side of the 4-speed shift knob that allows the operator to up shift or down shift in all forward gear speeds giving additional working solutions for any job selected. This is a Powershift function meaning the tractor can be moving and no other operation is required. Top road speed is 25 Mph and speeds in creeper mode as slow as .31 Mph.
3rd is the 12F/12R Full Synchronized Mechanical Shuttle featured in the M85SSC tractor. This transmission has been around for ages and still offered today by Zetor for the price conscience customer that does not need or want all the Premium features that a Power Shuttle transmission provides. The Zetor 12F/12R Mechanical Shuttle still gives the operator the ability to shift through the 4-speed without stopping simply by depressing the clutch pedal and can still move from forward to reverse without stopping as long as the clutch pedal is depressed to change directions. Top road speed is 19 Mph.
MM-Utility Ag Series Photo Gallery
Power Take Off (PTO)
All four models feature independent PTO.
The M70PSC tractor features 3-speeds 540/540E/1000 IPTO and the M85PSC HD and M85PSC HD L Models have 2-Speeds 540/1000 IPTO. The Independent PTO is engaged by a multi-wet clutch pack submerged in pressurized oil for longevity and productivity. No mechanical action is required. All 3 tractors are equipped with a 2-poisition switch that activates the clutch packs via electric over hydraulic for smooth PTO shaft engagement.
The M85SSC tractor has a mechanical engagement via lever that independently engages the IPTO without depressing the transmission clutch pedal. The tractor has 2-speeds 540/1000. The PTO is driven by a dry cerametallic clutch lining encased with the transmission clutch disk and pressure plate.
Front End Loader Attachment Photo Gallery
Hydraulic System
Zetor MAJOR Utility Ag Series tractors feature an Open Center hydraulic system with dual pumps and a separate hydraulic circuit dedicated to Power Steering.
2-Rear remotes including float/detent/SA/DA functionality is factory equipment with an optional 3rd rear Remote dealer installed.
The M70PSC tractor is factory equipped with Joystick and 2-mid mount valves with 3rd function control. The hydraulics to front of loader is optional via dealer installment. The M85PSC HD L model comes with factory installed front end loader complete with Joystick Control and true 3rd function complete with hydraulics to the front to power additional attachments such as a bale squeezer and grapple. The other two models have an optional factory installed loader with Joystick control and 3rd function dealer installed.
Hydraulic System, 3-Point Hitch and Drawbar Photo Gallery
Three Point Hitch
All models come with a Premium 3-Point Hitch complete with HD Telescopic Stabilizers, CAT 2/1 HD Extendable Link Ball Ends and a HD Swinging Drawbar including the Hammer strap with pin.
Each model has Position control with Draft and Mix standard. Draft sensing is fully adjustable on all models including hydraulic sensitivity control for heavy mounted loads and transport road Safety.
Premium HD 3-Point Hitch with dual lever controls, 2Premium Rear Remote Valves individual lever controls and HD swinging drawbar, hammer strap with pin.
Climate Control Cab
Every Zetor MAJOR Utility Ag Series tractor comes factory equipped with an All-Weather Climate Control Cab. All 4 models feature forced air windshield defog, heater and factory installed air conditioning.
The M70PSC and M85SSC models have factory power steering with tilt wheel and the M85PSC HD Series tractors also include telescopic steering. All four models have fresh air ventilation controls, roof hatch, opening rear window with lock, opening corner windows with locks and L/R doors with locks. Outer telescopic and fully adjustable L/R mirrors is also standard on all modes.
All 4 models come with a cloth operator seat with for/aft adjustment and mechanical suspension. The M85PSC HD Series also features recline and swivel adjustments plus dual armrest and an extended headrest. All models are available with an optional Air-ride premium cloth seat with swivel/rocker/recline/for/aft adjustments and dual armrest. All seats include seatbelts. The M85PSC HD Series tractors are factory equipped with a Premium folding Instructor seat with seatbelt and the M85SSC comes with an economy fixed Instructor seat with seatbelt.
All MAJOR Utility Ag Series tractors are factory equipped with a Premium stereo sound system.
Photo Gallery of Climate Controlled Cab & Accessories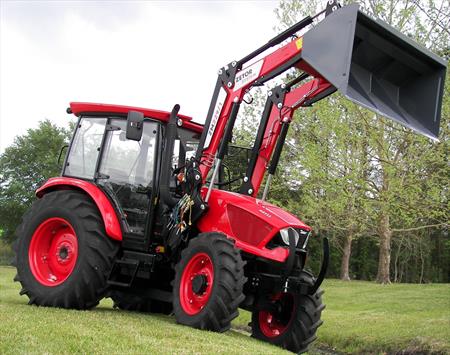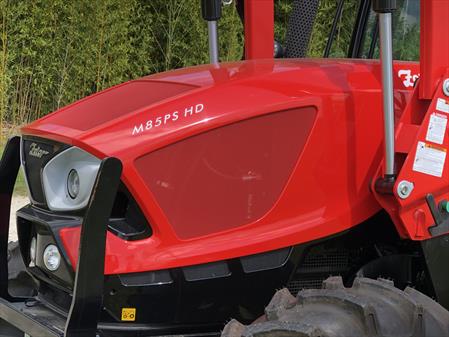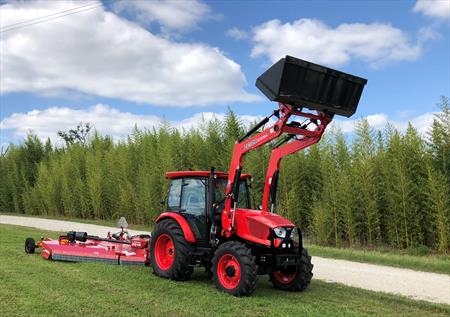 Safety and Accesories
All four models in the MAJOR Utility Ag Series line comes with multiple Safety functions and lighting package.

Safety and Warning Lights/Gauges:
M70PSC and M85PSC HD Series tractors include tachometer, hour meter, (ground speed plus multi-function button controls, M85PSC HD Series), fuel gauge, water temperature light, oil pressure light, emissions warning light, glow plugs waring light, parking lamp warning light, 4wd engagement light, differential lock warning light, turn signals light, emergency flashers light and high beam light. The M85SSC model has a digital tachometer with Fuel and temperature gauge.
Lighting and Safety Package:
All models have F/R - L/R turn signals, emergency flashers, rear brake and tail lights, 4-headlights (2-headlights M85SSC), 2-F/R Cab work lights (4-Rear Cab Work Lights M85PSC HD Series), 7-pin external plug, horn, L/R adjustable outer mirrors.
Additional Premium Features All Models:
F/R windshield wipers with reservoir, emission control switches, 4wd electro-hydraulic engagement, Independent electro-hydraulic PTO engagement (except M85SSC, mechanical lever engagement), dome light, tilt steering (with telescopic M85PSC HD Series), Premium stereo sound system with speakers and antenna.
For more information about the new and exciting Zetor M Utility Ag Series tractors visit your local Full Service Zetor NA Dealer and or call Zetor North America @ 904-647-7169 and ask to speak with the Sales Manager in your region.