ZETOR TRACTORS a.s., a European tractor manufacturer, has been on North American markets for 40 years. Yet, the ZETOR brand has existed since 1946. ZETOR products are administered and distributed by ZETOR NORTH AMERICA. Currently, an updated FORTERRA tractor series is being presented in the USA, all models are four-cylinder with power ranging from 96 to 147 hp.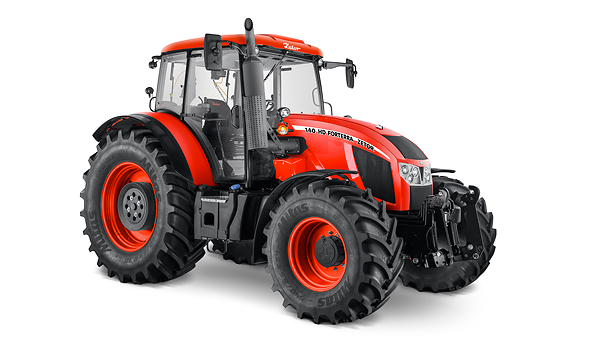 FORTERRA series has been known for power and ruggedness. They are offered in three versions: FORTERRA CL, FORTERRA HSX, and FORTERRA HD. FORTERRA CL employs four-cylinder engine with the power from 96 to 136 hp and mechanical gearbox 24/18 with three-speed power shift. FORTERRA HSX offers 30/30 gearbox with hydraulic Power Shuttle and also three-speed power shift. FORTERRA HD is a heavier model with power up to 147 hp, extensive use of electronic controls and multi-functional control panel in the cab.
FORTERRA engines are produced by Zetor in Europe. They are some of the most fuel efficient engines in the world. Even in TIER 4 final version, they use Zetor's own mechanical injection pump and injectors, without sacrificing any of their traditional high torque. So maintenance or servicing will cost a fraction of the of common rail engines used by many competitors.
FORTERRA transmissions are also completely produced in-house. Only best quality materials are used and each transmission is bench tested and also tested in the fully assembled tractor before shipment to the customer.
Three-point hitch lift capacity is 16,500 lbs or 18,700 lbs. The unique HitchTronic System makes three-point operations faster and easier. The system automatically measures soil resistance while plowing; based on the measured values, it automatically regulates the rear three-point hitch. This results in fuel savings of 5-7 %.
To improve operator's comfort, front axle suspension and cab suspension are offered as options.
The new model range was recently proven in the prestigious European competition "Tractor of the Year" when the FORTERRA HD qualified as one of the best tractors of 2017.
For more information on the products of the ZETOR brand and the FORTERRA model range, visit http://www.zetorna.com/, or contact an authorized dealer. Take a ride and experience the many qualities of ZETOR tractors!